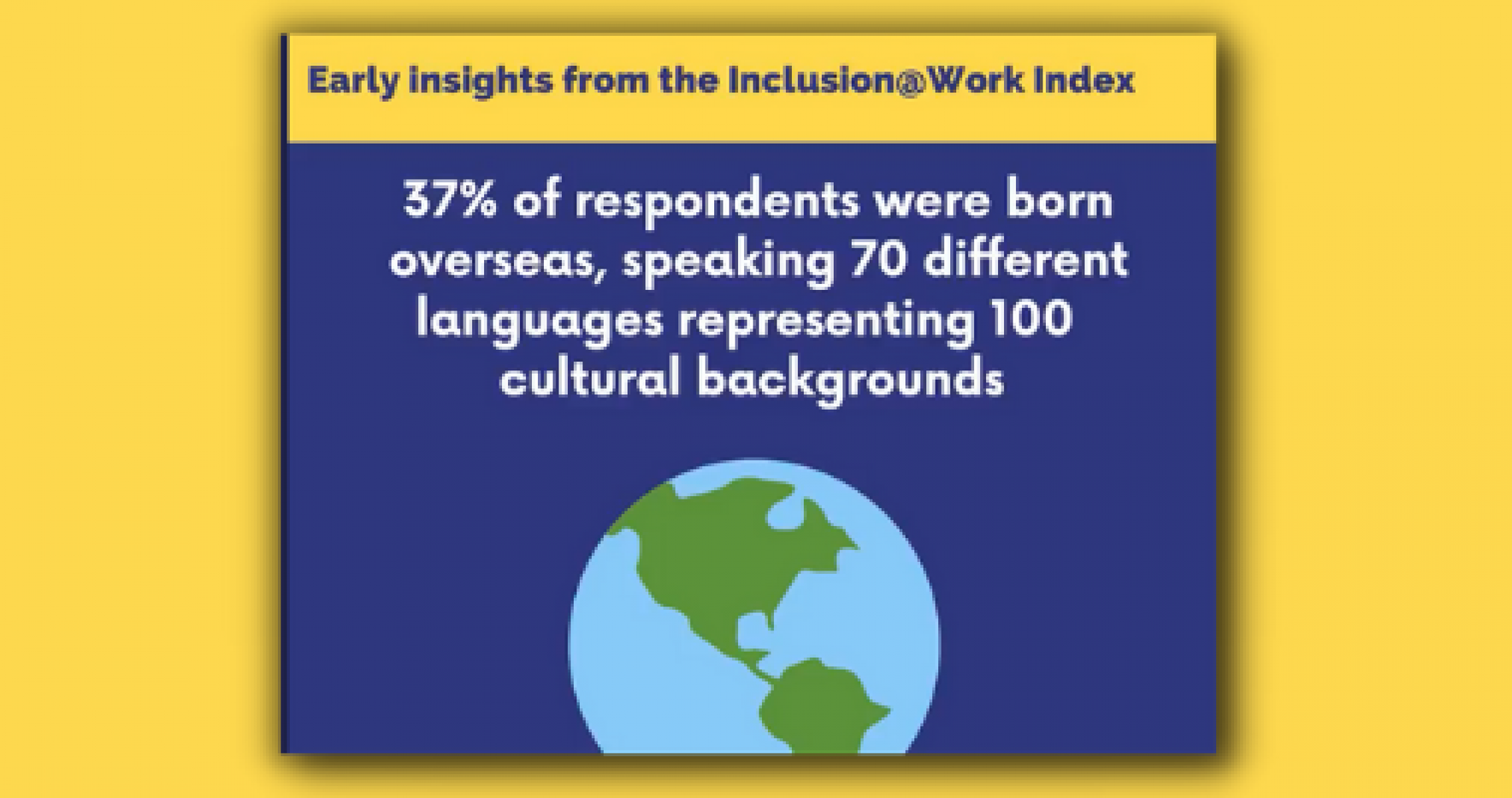 More than 1000 participants in the space, spatial and surveying sectors took part in the inaugural Inclusion@Work Index. The Index will deliver a baseline for diversity and inclusion, mapping for the first time the experience of people who work and study in the sectors.
Early results show significant cultural diversity, with 37% of respondents born overseas, speaking 70 different languages and representing 100 different cultural backgrounds.
Other early results include:
34% of participants were female
The median age of participants was 44
10% of participants identified as being part of the LGBTIQ+ community
8% of people identified as having a disability
Land Use Victoria is supporting this significant industry-led initiative, with representatives from 8 Australian and New Zealand space, spatial and surveying peak industry associations collaborating to deliver the Index.
The results from the 2021 Inclusion@Work Index will create national benchmarks, track levels of diversity and will use data to ensure unrepresented groups are given equal opportunity to be included.
A sector-wide report will be officially released in early 2022. The report will show further insights into the state of diversity in our sector and how we can enjoy a fairer and more inclusive workplace.
The Inclusion@Work Index is run by the Diversity Council Australia every 2 years. It is run in consultation with practitioners and academics and covers 3 broad areas.
Experience of inclusion at work: Team inclusion, inclusive leadership, inclusive/exclusive behaviours, awareness and support of organisational diversity and inclusion activities.
Diversity demographics: Indigenous background, age, caring responsibilities, cultural background, disability status, gender identity, religious affiliation, sexual orientation.
Impact of inclusion: Effectiveness, innovation, customer service, discretionary effort, job satisfaction, turnover intention.
Associations from Australia and New Zealand that were promoting participation:
Australian and New Zealand Land Information Council (ANZLIC)
Consulting Surveyors National (CSN)
Earth Observation Australia (EOA)
Space, Spatial and Surveying Diversity Leadership Network (SSS-DLN)
Survey and Spatial New Zealand (S & SNZ)
Surveying and Spatial Sciences Institute (SSSI)
The Spatial Industries Business Association (SIBA) and Geospatial Information & Technology Association ANZ (GITA)
Visit the 2026 Agenda – Inclusion@Work page for more information and frequently asked questions.
Diversity and inclusion at DELWP
The Department of Environment, Land, Water and Planning (DELWP) framework for a diverse, inclusive and gender-equal workplace is guided by the DELWP Diversity and Inclusion Strategy 2019-2022.
We want our people to bring their whole selves to work and so we are building an accessible and inclusive environment for all our employees and for the community we serve.
Read more about diversity and inclusion at DELWP.
Page last updated: 09/11/21