Overview
Vicmap Features of Interest is a topologically structured digital dataset covering the state of Victoria and describing features of interest, their location and names. It has a large range of applications, including asset management, location based services, logistics management and map production.
Vicmap Features of Interest has a topological data structure that enables spatial relationships between features such as adjacency, connectivity, and containment, to be explicitly stored. For example, the relationship of the children's playground is "within" the respective reserve.
This allows a range of automated functions and analyses to be performed on features that would otherwise be complicated.
Key benefits to customers:
The database is a fundamental spatial reference file that will allow you to link and map your business intelligence.
Combines all features into a single dataset.
Enhances search and find capability on features of interest.
Allows for efficient and effective asset database management.
Links to the Geographic Names Register, Vicmap Address and other authoritative registers.
Additional benefits of the product:
Provides the location and describes the features with a sub-feature type classification.
Allows links by mapping parent and child relationships between features.
Example: a university can have multiple campuses; a reserve can have many sporting grounds.
Identifies the data's custodian and provides linkages to other databases. This includes the custodian's unique feature identifier for each feature in their database.
All features have a common data structure.
The data model allows customers to link and map against their own data or other authoritative information.
Examples of features and sub-features
The datasets within Vicmap Features of Interest use approximately 200 cultural and infrastructure themes of the 300 sub-features described in the products features catalogue.
Each sub-feature is represented as points, lines and/or polygons defined by coordinate spatial data (latitude and longitude) with associated attributes.
Education centres – primary schools, tertiary institutions
Reserves – zoo, gardens, parks
Hospital's & care facilities – child care, general hospital, aged care
Emergency facilities – fire/police/ambulance stations
Community venue – hall, neighbourhood house
Admin facility – law court, municipal office, post office
Sporting facilities – sporting ground, tennis courts, velodromes
Power facility – gas power station, hydro power station, windfarm
Landmark – cairn, monument, tower, lookout
How is the information represented?
The spatial definition of these features can be represented as points, lines, polygons, a series of linked lines or a series of related polygons. Note that this is dependent on feature type and display scale.
Explore data
You can explore Vicmap data in a web mapping service before you download:
Although this site contains the core Vicmap datasets, it may not include the full suite of available products.
Access data
You can access Vicmap Features of Interest from the Data.Vic platform under a Creative Commons license.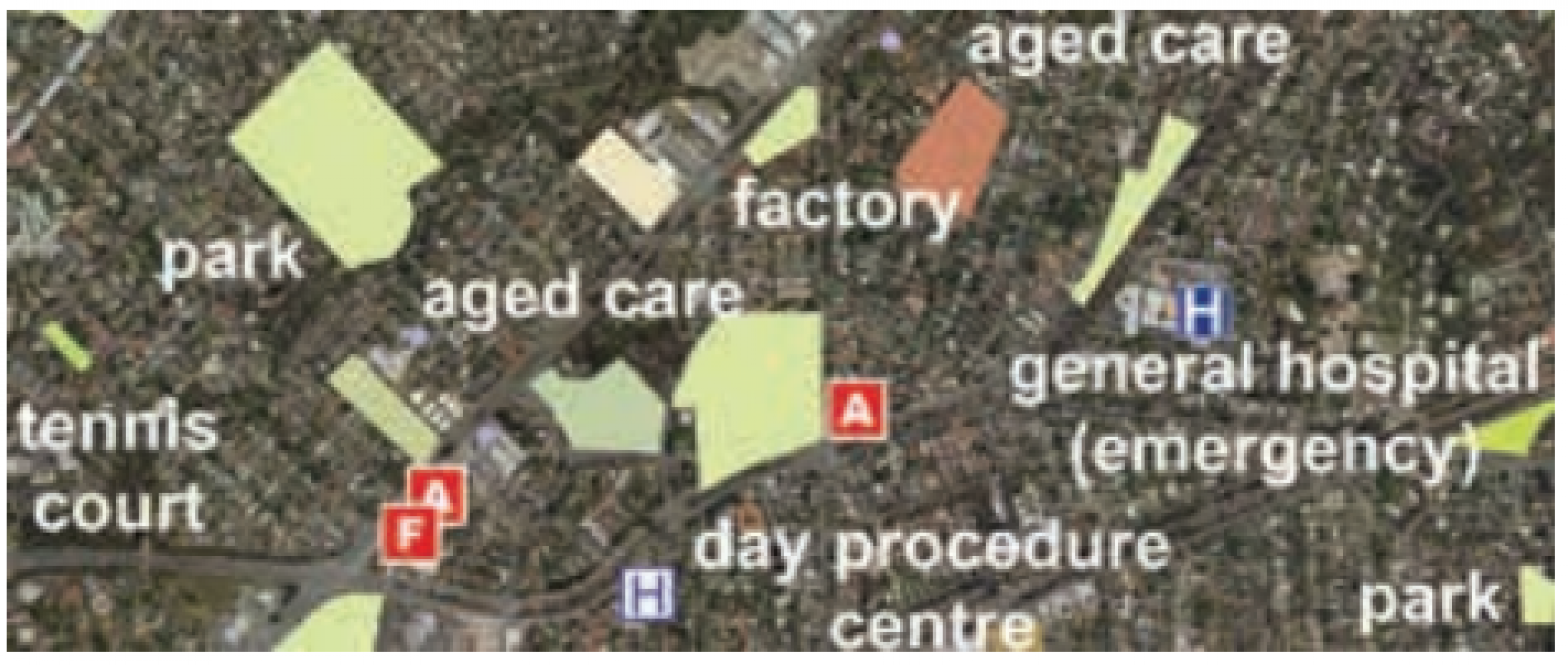 Technical detail
| | |
| --- | --- |
| Source information | Refer to the Vicmap Features of Interest product description |
| Coverage | Statewide |
| Currency | Varies with each features authoritative source |
| Scale of capture | Generally ranges from 0.1 m to 25 m |
Vicmap complies with the FAIR data principle: Findable, Accessible, Interoperable and Reusable, where reasonably practicable. This is why Vicmap is available in a range of data formats and datums.
For details, please review the Vicmap product specification below.
Product resources
How to get help
Vicmap customers and business custodians can contact the Vicmap Helpdesk for product information and support.
Page last updated: 11/07/23