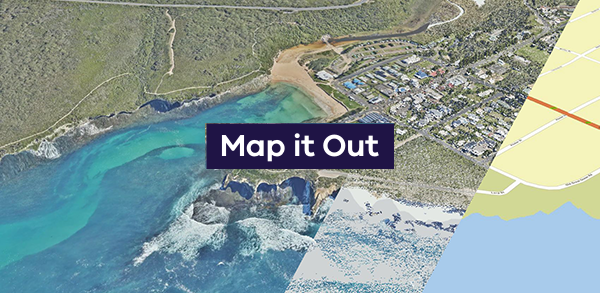 The latest edition of the Map it Out newsletter is out now.
This month we feature headlines:
Free online DTV Platform launch showcase - register now!
Unveiling White's Cairn and a piece of Victoria's surveying history
Developing a 10-year strategy for Victoria's cadastral system
Counting down to the Vicmap spatial upgrade
Digital Twin Victoria platform now live
Vicmap editing service hits 150,000!
A new way of working with the Coordinated Imagery Program is coming
Vicmap as a Service (VaaS) Explorer BETA now live
Airborne gravity survey headed to Otway and Greater Melbourne regions
Awarding the inaugural DELWP Spatial Diversity and Inclusion scholarship
Vicmap User Reference Group (VURG) collaborating with stakeholders to improve Vicmap
Victoria-NSW border survey update
We also feature Andrew Mellor, Director Vicmap Spatial Services, who penned our 'From the desk of' foreword this edition.
Other regular sections include upcoming events and career opportunities in Land Use Victoria.
About Map it Out
Map it Out newsletter features spatial and surveying news and innovation from across the Victorian Public Service. It is produced by Land Use Victoria and released four times a year.
Get the latest news by signing up to Map it Out:
Page last updated: 06/10/22