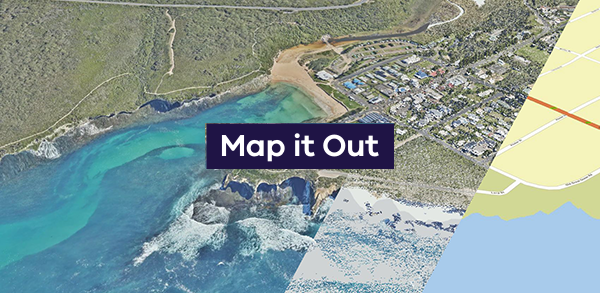 The latest edition of the Map it Out newsletter is out now.
This month we feature headlines:
Naming rules review reaches more stakeholders than ever before
Streamlining government procurement of geospatial services
3D buildings data of major Victorian regional centres now available
Webinar marks 50 years of Australian height datum
Standardising cadastral survey data through the Single CAD format File
Public Service Medal awarded to former Land Use Victoria Chief Executive
Accolades for Victorian surveying and spatial talent at the Asia-Pacific Spatial Excellence Awards
We also feature Dr Tamara Van Polanen Petel, Project Manager for the Port Phillip Bay Coastal Hazard Assessment from Forest, Fire and Regions at the Department of Environment, Land, Water and Planning, who contributes the regular 'From the desk of' foreword.
Her article spotlights the development of a new Decision Support System as part of the awarded Port Phillip Bay Coastal Hazard Assessment (PPBCHA) project.
Other regular sections include upcoming events and career opportunities in Land Use Victoria.
About Map it Out
Map it Out newsletter features spatial and surveying news and innovation from across the Victorian Public Service. It is produced by Land Use Victoria and released six times a year.
Get the latest news by signing up to Map it Out:
Page last updated: 07/05/21