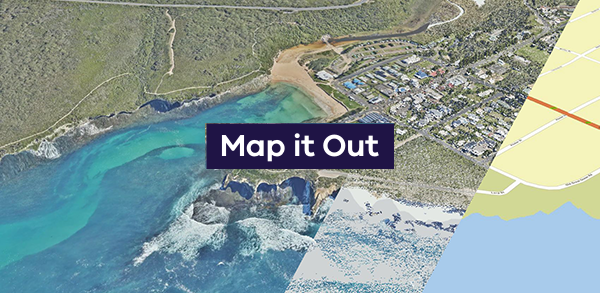 The latest edition of the Map it Out newsletter is out now.
This month we feature headlines:
Great Ocean Road as you've never seen it before
Vicmap change notices now with a new look and easier access
Major upgrade to support precision positioning
Mapping Aboriginal cultural heritage site Deen Maar
Digital Cadastre Modernisation milestone
Pilot launched to simplify ePlans with new creation service
Updated centreline for Great Ocean Road now in Vicmap Transport
Surveyors to have their say in registration review
New Chief Executive for Land Use Victoria
Australian Government to upgrade Digital Atlas
Survey on diversity in the space, surveying and spatial sectors
Get you APSEA nomination in today
Honour for Commissioner for Environmental Sustainability
Surveying added to priority list
We also feature Murrie Kemp, Senior Policy and Engagement Officer at the Aboriginal Self-Determination Reform branch of Department of Environment, Land, Water and Planning, who contributes the regular 'From the desk of' foreword.
Murrie's article celebrates NAIDOC Week and shares his experiences of the Indigenous Mapping Workshops and developments in Indigenous data sovereignty.
Other regular sections include upcoming events and career opportunities in Land Use Victoria.
About Map it Out
Map it Out newsletter features spatial and surveying news and innovation from across the Victorian Public Service. It is produced by Land Use Victoria and released six times a year.
Get the latest news by signing up to Map it Out:
Page last updated: 08/07/21