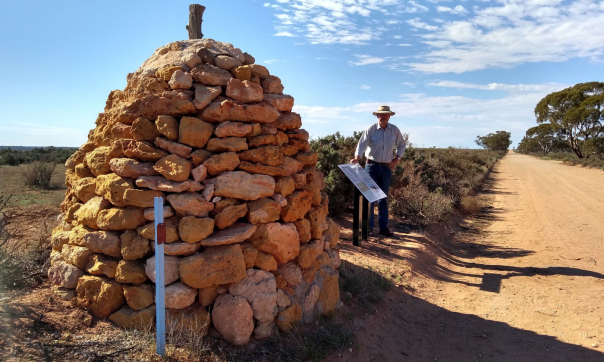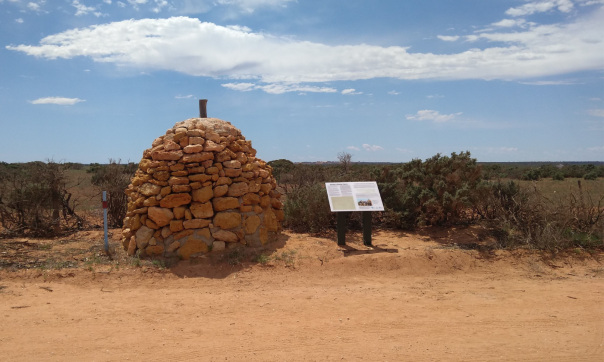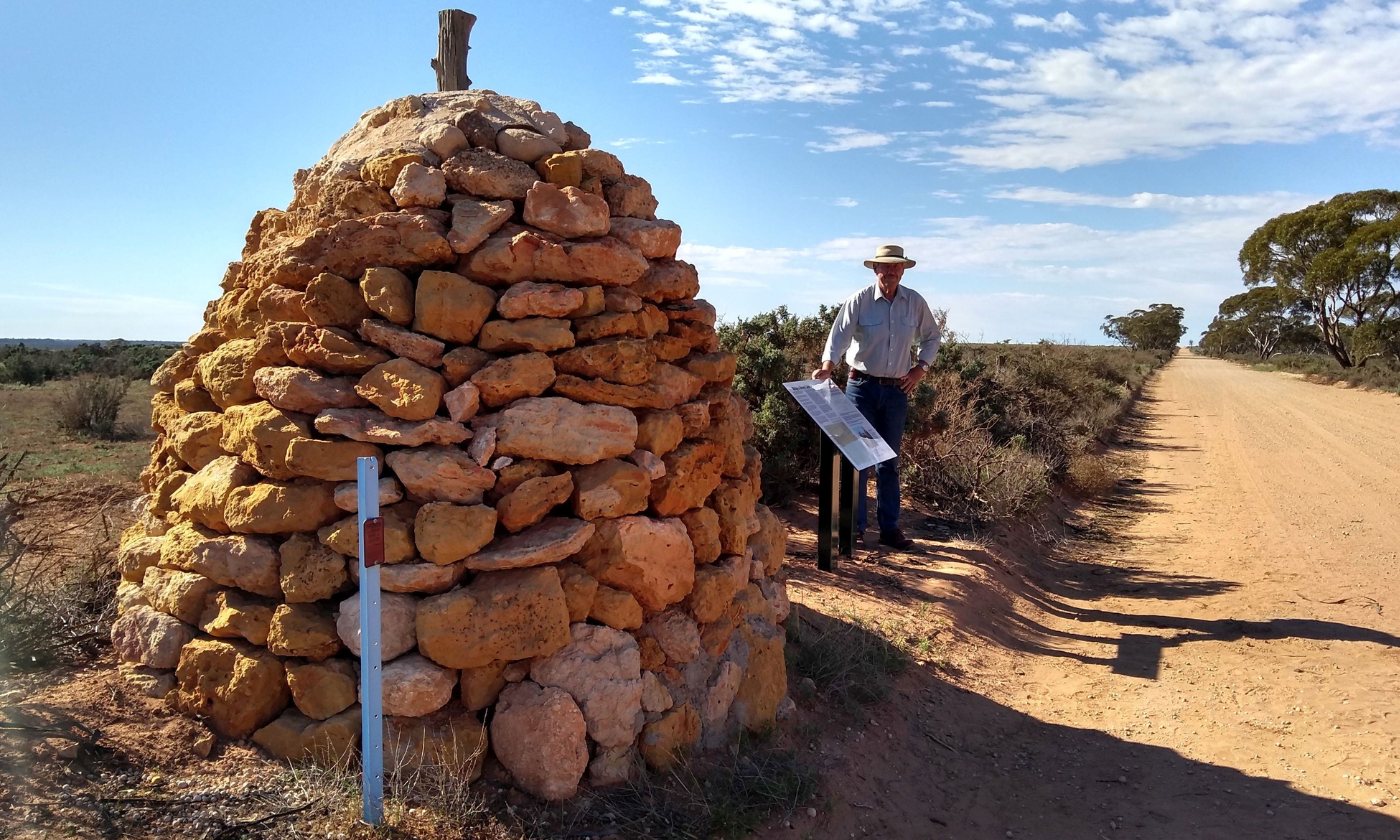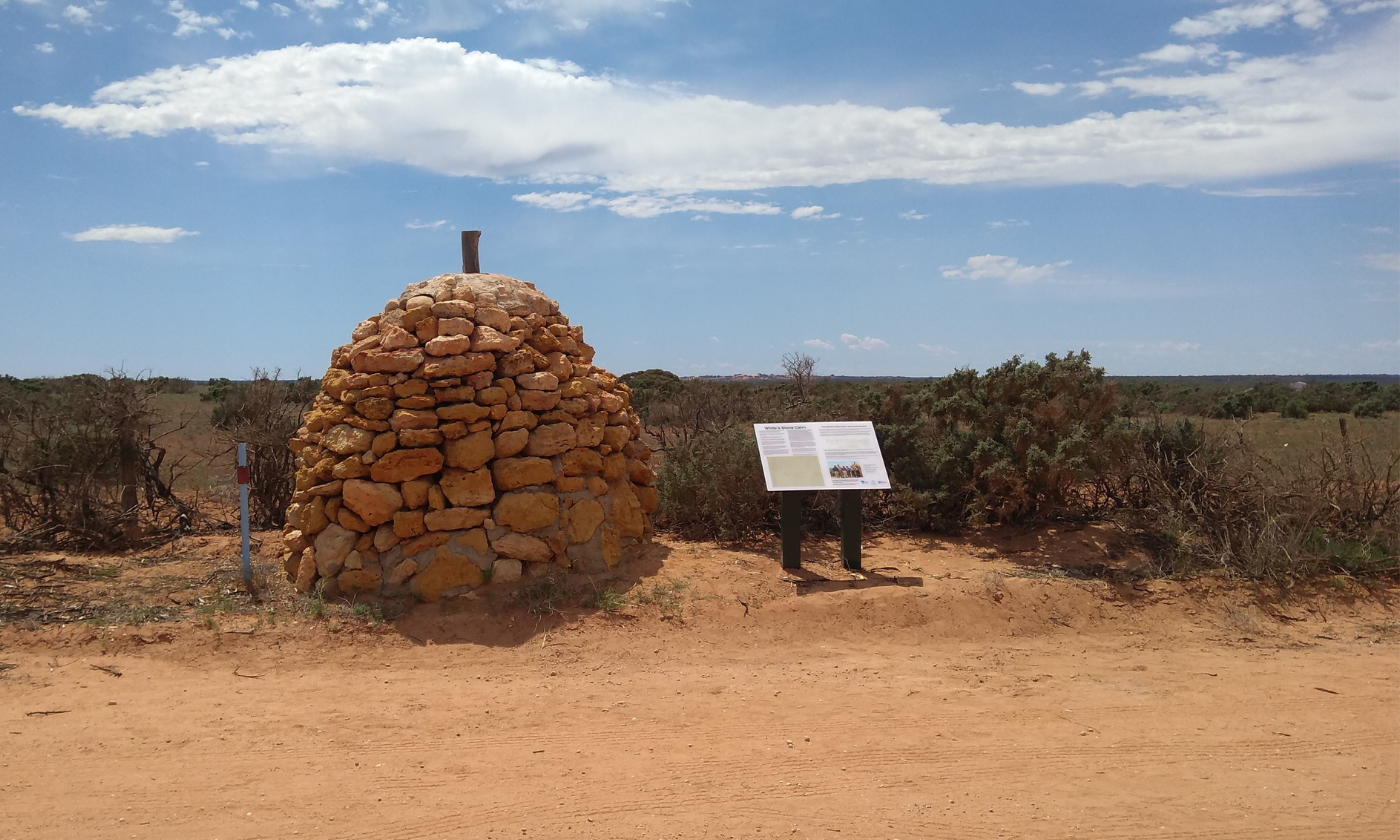 27 June 2022
Staff from Surveyor-General Victoria (SGV) have unveiled a display board at White's Cairn commemorating the history and significance of the site.
Located on the border of Victoria and South Australia, and roughly 2 hours west of Mildura, White's Cairn is one of the most accessible survey marks along the border.
White's Cairn was first rebuilt in 2001 by local land surveyors from Mildura and Renmark. John Pitt, a now-retired DELWP surveyor, was one of these dedicated locals.
Determined to see this piece of Victorian history restored and preserved, John has completed further restoration work to the stone cairn over the past 2 years. Partnering with the local community and SGV, the site was further enhanced with the installation of a display board, with SGV providing plans and funding while John oversaw design and construction.
Today the stone cairn replica of the original stands at 2 metres high. Alongside it, the display board explains the monument's noteworthy history and how it was reconstructed. It also tells the story of surveyors Henry Wade and Edward White, who first surveyed the Victoria/South Australia border in 1850.
Edward White's stone cairn survey marker was first erected over 170 years ago as part of the border survey. The original historical survey mark was a pile of stones 8 feet high, but almost never came to be.
Edward White nearly died during his first expedition to the site. Pushed to the brink by dwindling rations and dehydration, he ventured alone to the Murray River seeking assistance for the team. Returning with further supplies, the border line was eventually completed.
This work is part of a broader program of work with communities to maintain Victoria's heritage. Historical survey marks are an important part of our mapping history and tell many stories, with many survey markers dating back to the 1800s still in use today alongside their modern counterparts.
Read more about the Surveyor-General of Victoria:
Page last updated: 28/06/22