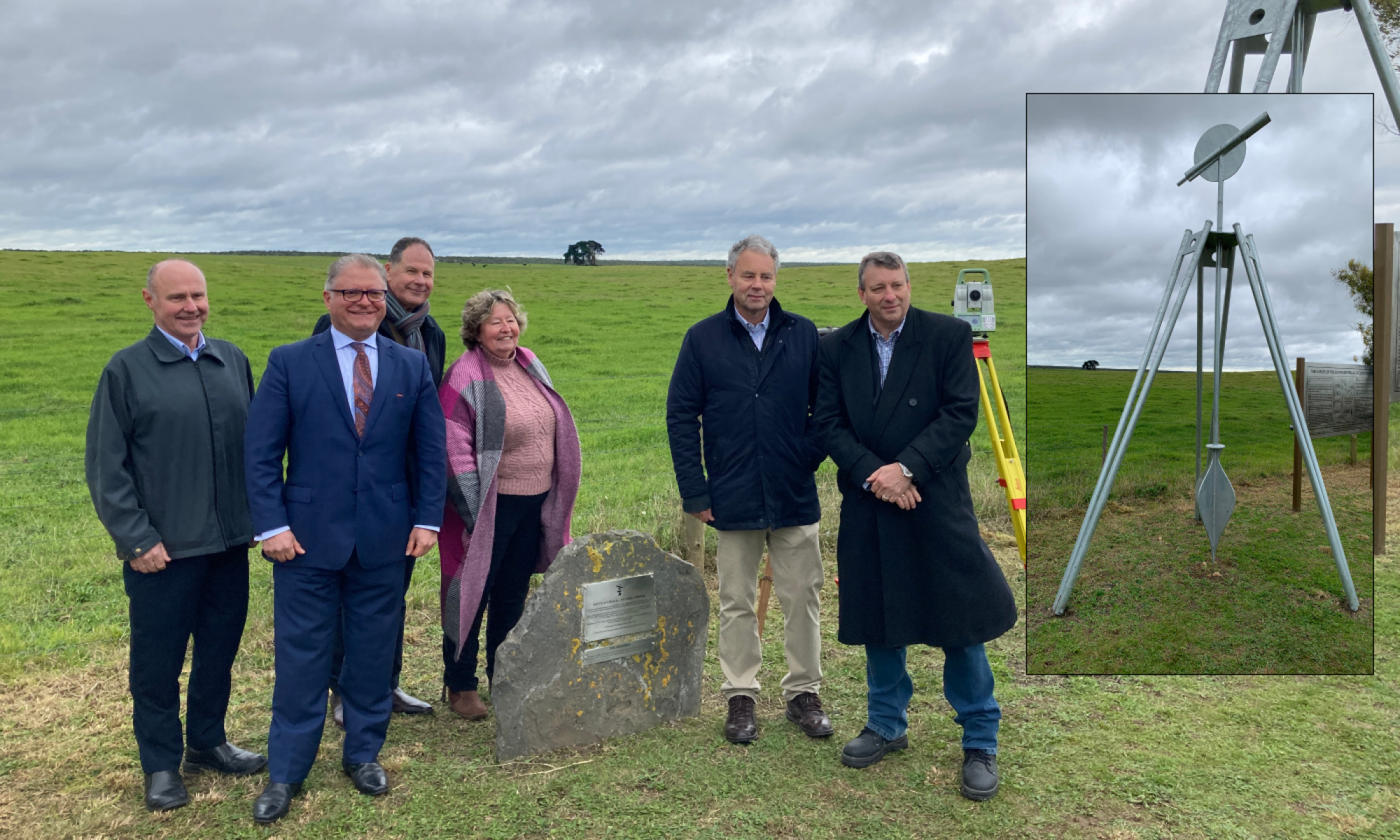 28 August 2023
Following significant restoration work, the restored Wade and White Monument on the Victoria and South Australian border has once again been unveiled to the public.
Originally constructed in 2001 as a Centenary of Federation project and to celebrate 150 years since Victoria's first Surveyor-General Robert Hoddle was appointed, the monument pays tribute to pioneer surveyors Henry Wade and Edward White. Wade and White surveyed the border between Victoria and South Australia from 1847-1850.
The monument is a 3-metre-tall replica of a surveyor's theodolite, a tool used by surveyors to measure horizontal and vertical angles. Its design was inspired by the equipment that would have been in use at the time of the border survey.
Located close to the coastline about 3 kilometres west of Nelson on the Victorian and South Australian border, the monument had suffered significant damage over the past 22 years and needed repair. To preserve this important piece of surveying history, Surveyor-General Victoria (SGV) worked with local Portland surveyor Roger Whyte to have the replica theodolite, storyboard and memorial plaque repaired for future generations.
An unveiling event held on 6 July was attended by state and local government representatives from both sides of the border. Attendees included Craig Sandy Surveyor-General Victoria, Andrew Falkenberg representing the South Australian Surveyor-General, Liz McKinnon Cross Border Commissioner of South Australia, Mayor Scott Martin and CEO Paul Phelan from Glenelg Shire Council and Executive Officer Ian Thomas of the Institution of Surveyors Victoria as well as Diana Boot (nee Wade), Henry Wade's great-great-granddaughter.
Attendees spoke of the great work of Wade and White and the need for the surveying profession to preserve and promote its rich history. Another lively discussion referenced how Wade and White's border survey had "got the line wrong", as the border line is approximately 3.6 kilometres west of where it should have been. Historic claims over what was considered 'Disputed Territory' were eventually settled by the Privy Council in London in 1914, cementing the location of the border that we know today.
Henry Wade and Edward White are significant figures in the history of surveying, with a second monument dedicated to Edward White located roughly 448km further north, and 2 hours west of Mildura, on the border of Victoria and South Australia. While both Wade and White set out from Nelson together to survey the border in April 1847, the border survey was completed alone by Edward White who reached the Murray River in December 1850.
Read more about surveying in Victoria:
Card to https://www.land.vic.gov.au/surveying/cadastral-survey
Page last updated: 28/08/23